Ross LewAllen
There are no words that can capture and explain the essence of this extraordinary soul. Ross left us sooner than expected but lived more in this life than most live in 20 lives. While the LewAllen Jewelery ship remains afloat, we have lost a most precious & inspirational part of our crew...
See details of his life.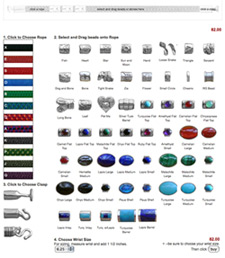 CLICK 'N DRAG - BUILD YOUR OWN ASCENT BRACELET
- Now you can build your own bracelet
ONLINE
and order more easily than ever. Especially for you visually minded people or those of you who like to play. You can Choose your Rope Color & Clasp, then drag Stones & our unique & original Beads onto the rope to create YOUR design.
We invite you to Check it out NOW!
Our Ascent Bracelets have been our best sellers for years! Made exclusively by Laura LewAllen.
Colorful perlon climbing rope with handcrafted beads and clasps. LewAllen & LewAllen Jewelry will be happy to help you design & create your own custom Ascent Bracelet.
These are for everyone! We can even adapt them and have "special" beads for making
dog & cat collars
.
Groove on our online Jewelry Catalog!
LewAllen & LewAllen Jewelry is designed and created in Santa Fe, New Mexico, USA.

Let your imagination go wild with us! There are options to choose from - bracelets, pendants, earrings, pins - in sterling silver and gold with precious stones to choose from too.

Our unique collections span nearly 30 years and reflect our experience in our travels and our journey through life.